Archiving for record labels & libraries
We are well accustomed to working with sizable record company archives, and have arranged the studios so that we can work quickly and efficiently at high volumes. This means we have the possibility to have multiple transfers of the same format on at least two lines at a time. We have one station dedicated to DAT and Cassettes which can transfer up to four tapes at a time, as well as two DASH, ADAT and F1 machine lines. The other stations can handle a variety of analogue tape formats. Upon arrival, all tapes are photographed and barcoded on both the reel and the box. This enables the progress of the tape to be easily monitored through the conversion process and eliminating the possibility of logging incorrect information for the tape. All work is logged using our MSaccess based database, which also includes box and tracksheet scans for each tape, and can even be configured to include actual audio files in each record. We can either provide you with a personalised version of our database, or export it in the best way possible to work with your data management software, Excel, CSV etc.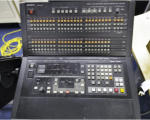 For archive customers, we can offer a variety of services including personal collection and delivery of tapes and on-site logging and scanning to let you decide which tapes need archiving. We regularly work under NDA's and respect the value that confidentiality can make to transferred recordings.